Local Governments Welcome High-Tech Snow Removal
Connected snowplows, infrared technology and Big Data analytics are saving taxpayers money and making snow removal less of a chore this winter.
With the prospect of more snow in the coming weeks, cities and counties are turning to technology to make short work of the pesky precipitation.
Moreover, with states spending millions of dollars on the effort each winter, new technology can help officials cut back on costs and conserve taxpayer dollars.
Howard County Snow Removal Gets High Tech
This year, it seems no one is more prepared for the white stuff than Howard County, Md. The county has unleashed an arsenal of futuristic equipment, including infrared technology that measures salt levels as well as air and road temperatures on state highways, WBAL reports. The infrared sensors can provide much more information for the county to work with while tracking road conditions.
"If we see something icing up, [we may] be able to respond more quickly," Maryland State High Administration spokeswoman Valerie Burnette Edgar told WBAL.
The state is also keeping closer tabs on its salt use and distribution through automatic vehicle locators (AVLs) on each plow, purchased from AT&T and BSM. Every 10 seconds, corresponding software creates a "digital snapshot" from the AVL of where each of the 135 vehicles is located, ABC2 News reports.
"These devices tell us the location of a piece of equipment, show us when it's moving, the direction it's travelling, whether its plow is up or down and whether it's spreading salt or other chemicals," Howard County Executive Allan Kittleman said in a public meeting to demonstrate the new snowplow technology. The county has also purchased 25 plug-and-play vehicle trackers for when the city brings in contractors to help with snow removal.
To see if snowplows are close to their area and which roads have already been cleared, residents can access the map of the plows on their web browser through a snowtracker enabled by Google Maps.
Connected Snowplows Maximize Michigan's Resources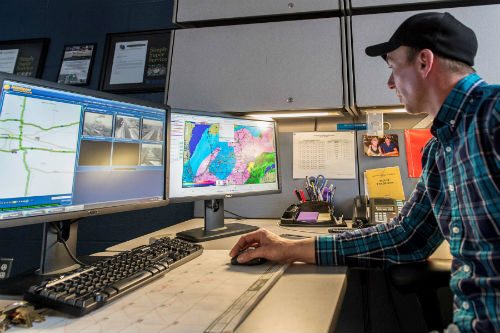 Ben Hodges, transportation maintenance supervisor at MDOT's Grand Ledge garage, checks on plow AVL information. Photo courtesy of MDOT.
In Michigan, the Saginaw County Road Commission has also installed connected vehicle technology on its plows to help maximize salt usage and clear roads faster, Michigan Department of Transportation officials said in a press release.
The connected vehicle tech reports on the location of each salt truck, gathers data from other sensors, and reports on details such as atmospheric conditions, camera images, speed and salt application rates for each vehicle. With MDOT spending an average of $30 million a year on salt, the GPS-based AVL technology has helped cut back salt use by 2.2 percent — generating more than half a million dollars in savings.
''Monitoring snowplow speeds and material application helps us apply efficient salting practices,'' said Melissa Howe, region support engineer for MDOT's Maintenance Field Services Section, in the press release. ''Maintenance supervisors can also easily adjust shifts based on the timing of a storm so we have plows on the roads precisely when they're needed, adding people proactively rather than reactively.''
Kentucky Employs Big Data for Big Snowstorms
Spurred by skyrocketing costs for snow removal in a state that already spends between $45 and $75 million on the effort each winter, the state of Kentucky has turned to Big Data analytics to help plows save time and taxpayer dollars.
Through the Kentucky Transportation Cabinet's (KYTC) Intelligent Transportation Systems program, the state has outfitted nearly 30 percent of its 1,400 trucks with AVL technology that collects and transmits data much like Michigan's system, GCN reports.
To complement the technology, the state built a Hadoop-based analytics system that combines the AVL information on plow location, road conditions, temperatures and salt application with data from about 12 other resources, including social media and traffic conditions. It then uses Esri's geographical information systems (GIS) platform to add a spatial component, finding and comparing information from Google-owned traffic navigation app Waze.
With this information, officials can create a picture of how plows are clearing the roads, which state engineers can use to route trucks more effectively.
"It's really organizing our data so that the engineering staff can … see if there's any changes that need to be made," Chris Lambert, systems consultant intelligent transportation systems at KYTC, told GCN.
aetb/iStock/Thinkstock Photos