The 'Ins' and 'Outs' for Public Tech in 2017
Technology's march of progress hasn't stopped yet. Find out where state and local government technology continues to evolve.
Every year, the Public Technology Institute sets out through a gauntlet of news coverage and focus groups with the aim to identify which technologies are emerging as the darlings of the public sector and which are falling out of favor. The moves, mostly, are subtle.
"It reflects shifts in thinking, terminology or technology," says Alan Shark, executive director and CEO of PTI. "I would say it's more of an evolution than a revolution from year to year."
This year's list saw interest and development shift from robotics to robots, and from the Internet of Everything to secure IoE. But with government technology, nuances can be everything, and that is nowhere more evident than in cybersecurity tech.
"Cybersecurity will always remain top of mind," Shark says. "But you can see now that it's really become a crisis, and with that crisis comes a shift away from perimeter-based security to more automated and active monitoring."
And what could be on the list for 2018? Shark pinpoints the use of artificial intelligence in cybersecurity, an even more secure approach to the Internet of Things and blockchain as topics that might make next year's list.
Check out how the times continue to change for public sector tech, and whether your agency has kept up.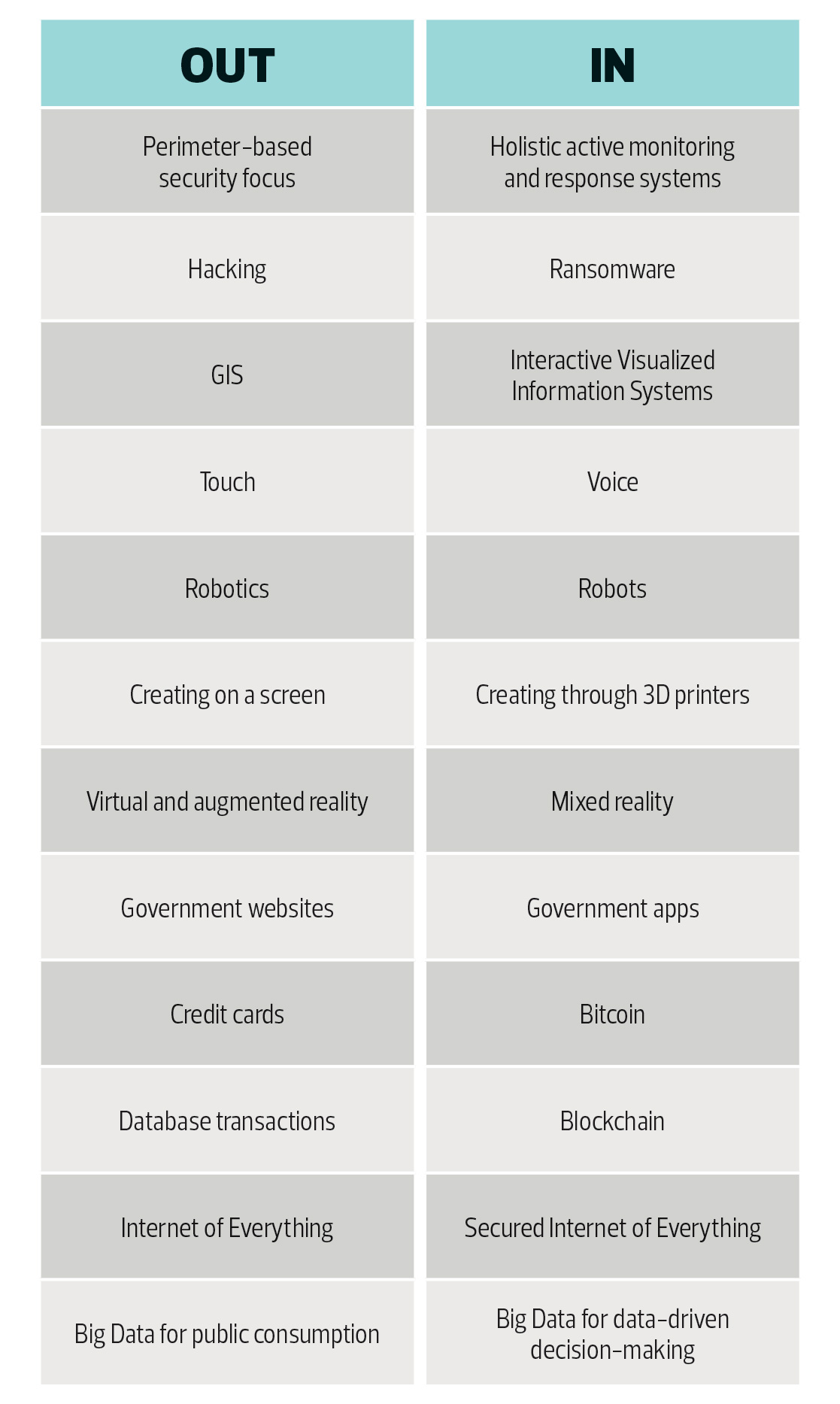 Editor's Note: An earlier version of this list, printed in the Broadband section of the Spring 2017 issue of StateTech, transposed the 'Ins' and 'Outs' columns. We regret the error.
Ivary/Thinkstock