Libraries Expand, Future-Proof Services with the Cloud
Streaming video, e-books, mobile hotspots and more are giving patrons what they want.
Public libraries have moved to the cloud for potential cost savings, on-demand scalability and greater collaboration. But like a voracious reader roaming the stacks, they want more — and they're finding it.
"The cloud opens up opportunities for us to offer new services in unparalleled ways," says Gage Andrews, technology officer at the Seattle Public Library. That means providing streaming digital content, including electronic books, music, videos, podcasts and even online recordings of local bands. Underpinning it all is the cloud.
"It's a great equalizer," Andrews says. "The content it makes available has no geographic boundaries, people can access it anywhere there's a network connection, and it helps people collaborate easily."

But to reap benefits now and in the years ahead, Andrews and other library technology experts say it's important to understand the pros and cons of adopting this resource. While the cloud enables novel multi-media experiences, brings efficiencies and increases access for remote patrons, administrators must also navigate privacy concerns and focus on hardware upgrades to achieve the best results.
Seattle Embraces Future Upgrades with SaaS Setups
The Seattle Public Library's cloud commitment includes a Software as a Service platform that provides access to e-books, audiobooks and videos. Another SaaS application features an online catalog with social media tools. The library maintains onsite its integrated library system (ILS), which tracks items owned, fees paid and borrowers. Andrews says he would consider a SaaS ­version for future upgrades.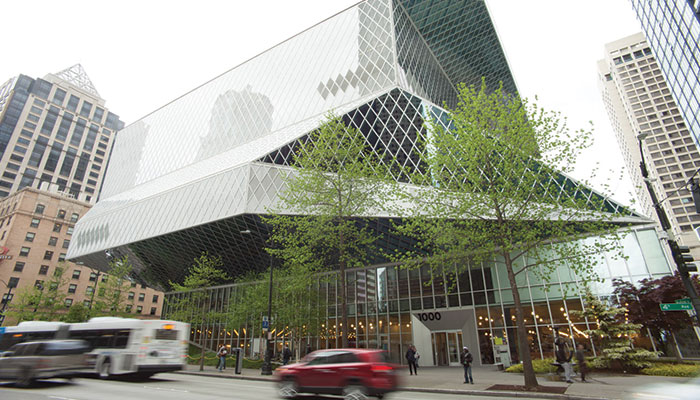 The Seattle Public Library. Photo: Rick Dahms
"The cloud has benefits for us for costs, business continuity and scalability," he says, but "cloud vendors will still need to provide the same privacy protection for the patrons' borrowing information that a non-cloud vendor provides."
Just as important, the cloud supports new services, such as Peak Picks, a prototype program that stocks Seattle's branches with extra copies of best-selling and high-interest titles. A cloud-based listing shows patrons the titles that are available by branch. The goal is to reduce wait times and make it easier to find the most ­pop­ular books.
The library expanded its traditional lending role by making the cloud accessible to patrons even when they're not at the library. It loans Verizon Jetpack MiFi 6620L devices, which link with the company's cellular services for establishing wireless hotspots, bringing high-speed access to patrons' homes and to the offices of community groups. "We're constantly asking ourselves how we can better serve our patrons' changing needs," Andrews says. "The hotspots are one answer to that question."
Patrons are responding: "People who don't have regular access to digital content wish we could acquire thousands more devices so they wouldn't have to wait to check them out," Andrews adds.
D.C. Sets a Solid Foundation with Cloud Services
The Seattle library isn't the only library that's inspired to think differently thanks to the cloud. When an ambitious modernization project at Washington, D.C.'s Martin Luther King Jr. Memorial Library is completed in 2020, patrons will see many experiential technologies. Two now under consideration: video walls and telepresence ­systems that could connect customers with people in distant locations. Other cloud-based services, which are still being determined, will form the backbone of the behind-the-scenes infrastructure that brings ideas like those to life, says CIO Lami Aromire.
For three years, the library has successfully relied on the cloud for internal applications and patron-facing systems. "The total cost of ownership in the cloud environments has been about 40 percent less than if we had been using a physical infrastructure," Aromire says.

The library taps into a cloud-based ILS, while a private government cloud managed by the D.C. CIO's office provides the entire IT infrastructure, including computing power, storage and backup systems, as well as software, such as personnel databases and email applications.
But cloud adoption isn't without ­challenges. Aromire and his staff had to upgrade the 100-megabit-per-second ­network with 1-gigabit-per-second circuits. He hopes to have 10-gigabit circuits in place by 2020. The library uses Cisco Systems ­networking. And Aromire recently installed Cisco Catalyst 4500-series switches.
"Bandwidth requirements will become even more demanding as people use our computers to connect to the public internet for online lifelong-learning services and other resources," he says.
His advice: Spend extra time on upfront planning for both local and wide area networks when considering any new cloud deployments.
Santa Clara Library Makes Room to Experiment with Cloud
For the past two years, Santa Clara (Calif.) City Library has used a cloud-based ILS and an online repository of articles and journals. A digital media service delivers music, movies and audio books via the cloud. The organization recently made Discover & Go available to patrons, which generates passes to the Monterey Bay Aquarium and local museums. In the past, managers ­struggled to justify the staff time required to manually purchase and manage the tickets.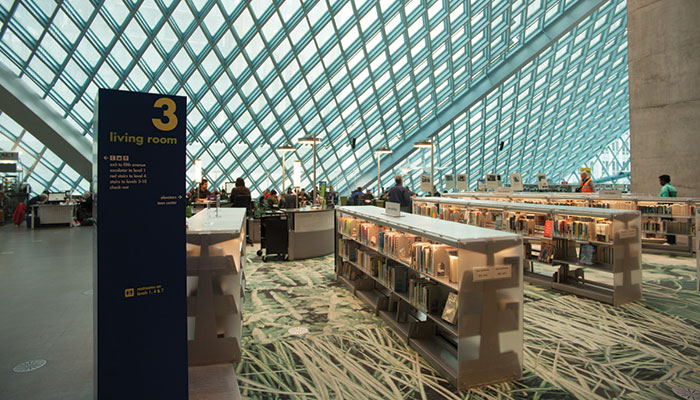 The Seattle Public Library, interior. Photo: Rick Dahms
Now, cardholders can access passes remotely, which frees staff for other activities. But offering new services wasn't the main motivation for moving to the cloud.
"Our servers were antiquated, and we were spending a lot of time maintaining them and keeping them secure," says Hilary Keith, city librarian. "The cloud was a natural evolution for us."
Managing costs, such as data migration expenses, proved challenging. The staff also worked closely with city financial planners to help them understand the thousands of dollars in new annual service fees in the library's budget, Assistant City Librarian Paul Sims says.
But positive results boost support from staff and city officials. "Librarians tend to be control freaks about their databases and the information in them," Keith says. "The cloud can make libraries more flexible and nimble. My advice is to take a deep breath and don't hold back. Experiment with the cloud as soon as you can."
Rick Dahms
More On