Smart Technology Makes Managing Traffic a Breeze for Transportation Departments
Connected and autonomous vehicle programs boost safety and reduce congestion in Wyoming, Columbus, Ohio, and Las Vegas.
Clogged intersections, backed-up freeway exits and rush-hour standstills aren't common traffic concerns in Wyoming. But U.S. Interstate 80, one of the nation's busiest freight and travel arteries, crosses the southern part of the state over high, wind-swept terrain and makes for treacherous travel in winter or during a storm in any season.
The highway routinely sees tractor-trailer blow-overs, crashes caused by ice and snow, and emergency road closures. With towns scattered 50 to 115 miles apart along the route, help is not always near.
"Our traffic issues aren't related to congestion," says Ali Ragan, GIS/ITS project manager for the Wyoming Department of Transportation (WYDOT). "We get very hazardous winters, and average elevation of the interstate is over 6,000 feet. It's like a 400-mile mountain pass in terms of blowing snow and high winds."
To address the challenge, Wyoming has turned to smart technology to improve safety and efficiency on its roadways. Other states and municipalities have similar efforts under way: Columbus, Ohio, and Las Vegas recently launched traffic-based technology initiatives that promise to make life easier for drivers and pedestrians. But the IT professionals charged with deploying such projects must first bolster infrastructure to accommodate the coming flood of data from all of the new sensing and communication technologies.
SIGN UP: Get more news from the StateTech newsletter in your inbox every two weeks
Transportation Departments Tackle Complex Connectivity
Connected- and autonomous-vehicle programs will greatly improve the safety and efficiency of road travel, says IDC Research Director Mark Zannoni. Those developments are part of the smart cities movement powered by the Internet of Things, which requires a robust backbone and IT infrastructure, Zannoni says.
"The connectivity is very complicated, and these systems involve huge amounts of data," he says. "There are limitations on how much data you can push through systems in place right now, and how that data can be processed. We need a platform that can support all that's envisioned."
Network speed and bandwidth, along with ample processing power, will be crucial, as will fortified privacy and security measures to protect large volumes of personal data, Zannoni says.
"Major manufacturers such as Cisco Systems, Apple and others are definitely involved in developing the technologies. In the end, our roads will be safer, and our cities will run more efficiently," he says.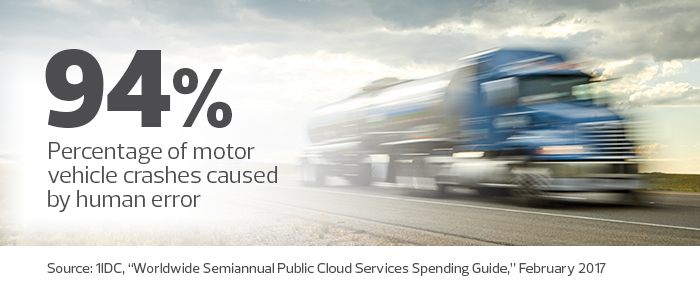 I-80 is the focus of WYDOT's Connected Vehicle Pilot (CVP) program, which is funded by a $45 million award from the U.S. Department of Transportation (USDOT) that Wyoming shares with New York City and the Tampa-Hillsborough Expressway Authority.
WYDOT will attach 75 dedicated short-range communication units to highway infrastructure at critical points along the interstate. DSRC units also will be installed on 400 vehicles, including state-operated trucks, highway patrol cruisers and snowplows, as well as vehicles owned by private fleets. Those onboard units will connect to user interfaces on Android tablets in state vehicles, and to tablets or other mobile devices for the volunteers.
Applications on the DSRC network will support both vehicle-to-vehicle and vehicle-to-infrastructure communications of safety-related information.
WYDOT and the state's Enterprise Technology Services team implemented IPv6 and upgraded routers to use the existing statewide Unified Network and WyoLink radio network, cellular modems and fiber connections to transfer data back from the roadside units, Ragan says. To handle all the data, the agency fortified its traffic management center with two Dell PowerEdge servers, a Dell iSCSI storage system, a Dell Networking N4032 switch and a Dell PowerVault tape library.
Columbus, Wyoming Tap Tech for Safer Trucking
The CVP program — scheduled for full operation by winter 2018-2019 — should have a significant impact on safety, Ragan says.
"I can always opt on the safe side and not drive when the weather is threatening," she says. "Drivers hauling freight might choose to drive because they have to be somewhere. We're trying to provide the information that will make everyone safer, and with fewer blow-overs and crashes, it will be better for the economy too."
A connected-vehicles program represents just one of the 15 demonstration projects Columbus will undertake as the winner of a $40 million USDOT Smart Cities Challenge grant, says Randall Bowman, the city's assistant director of public service. But with the city's traffic congestion increasing, roadways remain a high priority.
"We are learning from connected-vehicle projects like the one in Wyoming, which started a little ahead of us," Bowman says. "USDOT will then use our results to provide a narrative for other cities to follow."
Columbus will add roadside DSRC units to traffic lights at 175 intersections along three heavily traveled corridors, and onboard units in 3,000 vehicles, including some from the city fleet. Operators of connected vehicles will receive a variety of safety messages — signaling, for example, reduced speeds in school zones or increased pedestrian traffic — as well as collision and traffic backup alerts, Bowman says. The program will potentially decrease emergency vehicle response times for incidents within the ­connected vehicle environment.
Data will flow back to the city's 2-year-old Traffic Management Center, which provides the up-to-date infrastructure needed to monitor the roadways around and through Columbus. The city will also use the information gathered through the connected-vehicle program to refine the timing of traffic signals.
"We want to implement the technology to make our roadways safer, easier, faster and cheaper to get around on," Bowman says. "This is a first step to better transportation and greater access to transportation."
Las Vegas Lays the Groundwork for Smart City Tech
Las Vegas has carved out an innovation district in the heart of the city, where sensor-based and networking technologies will tackle a variety of urban issues, starting with pedestrian and traffic safety, says CIO Michael Sherwood.
The city will use Cisco's cloud-based Smart + Connected Digital Platform to aggregate and integrate information from various data sources in the innovation district and, eventually, throughout the city, Sherwood says. The platform helps municipalities build a smart city framework, and offers a portfolio of solutions and connecting application programming interfaces to third-party services.
Sherwood urges municipalities otherwise hesitant to adopt smart city technologies to start small, but to definitely get started.
"Pick a project, whether it's streetlights or garbage cans," he says. "Do a small pilot network and see if it makes a difference. I think it will, and then you can make it bigger and move on to other projects. Change is coming, and Las Vegas, for one, wants to be a city of change and progress."
Jeff Nelson