3 Ways Smart Cities Can Plan for Future Interoperability
Follow these tips to keep your cities from creating potentially problematic data and technology silos.
Implementing the latest connected technologies can make cities feel like they are ready for whatever the future brings. The truth, of course, is that these technologies won't last forever and they are going to be upgraded and replaced countless times as technology marches forward.
The question, then, becomes not just how are cities deploying technology for now, but how are city officials and IT leaders future-proofing their tech deployments in order to ensure the cities don't become obsolete or isolated over the next decade?
Speaking at U.S. Data Innovation Day 2017 in Washington, D.C., on Dec. 5, three experts offered advice on how city IT leaders can ensure their systems are interoperable with new solutions and ones we haven't even thought of yet.
SIGN UP: Get more news from the StateTech newsletter in your inbox every two weeks
1. Adopt Flexible Smart City Technologies Now
While an ideal answer to future interoperability woes might be a set of standards that regulate current solutions, Barney Krucoff, chief data officer for Washington, D.C., said it's not likely that those sorts of regulations will emerge.
"I'm not a big optimist in [the idea that] we're all going to follow the same standard," Krucoff said, noting that often federal standards are too late to market to be effective, which means that the real standards are often set by the market itself and which company or solution has the most market share.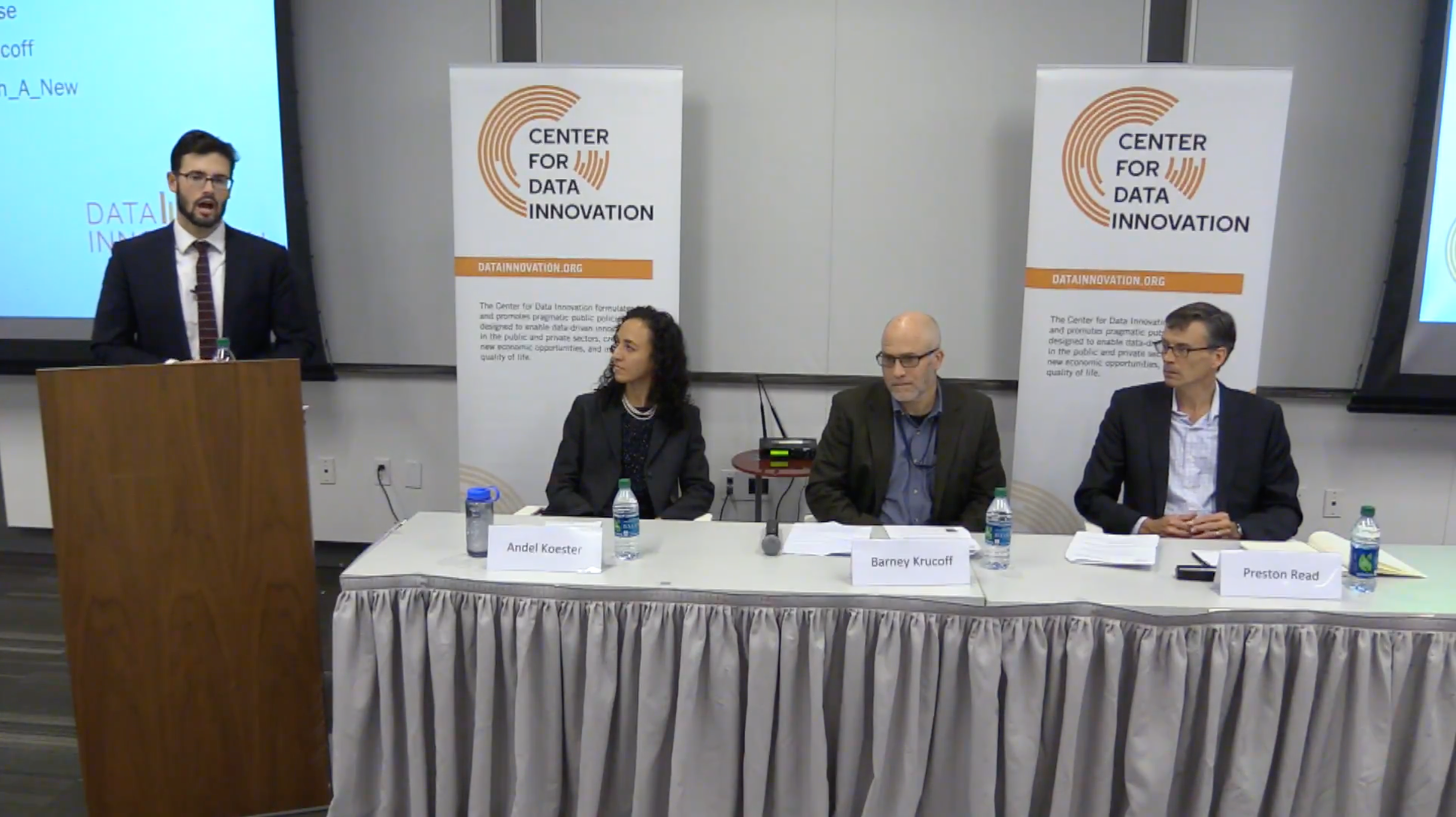 From left: From left: Joshua New, policy analyst, Center for Data Innovation; Andel Koester, associate director of What Works Cities, Results for America; Barney Krucoff, chief data officer, District of Columbia; Preston Read, senior director for external affairs, Verizon Smart Communities.
"But if you're just one city, the standards you pick [won't] drive the market," said Krucoff. This puts cities in the position of trying to guess the future of the market, which is, of course, impossible, meaning that to avoid costly overhauls, it's best to deploy flexible technologies now.
"You have to look, try to ride the right wave and adopt technology that is flexible enough, because you will get in the wrong lane some time and you're going to need to switch," he said.
2. Cities Should Consider Open APIs
Preston Read, senior director for external affairs at Verizon Smart Communities, noted that the company uses open, or publicly available, application programming interfaces for all of its systems, which allows cities to manage major changes to software or vendor switches without losing access to data.
"As long as we're running in an API and we put our data behind the gateway, if we change our vendor at some point we should be able to match the old API and maybe someone else can take it and work from there," said Krucoff, noting that Washington, D.C. is using one. 
3. Lay a Common Framework for Data and Adoption
"Cities are becoming increasingly aware of the importance [of interoperability] in some cases because they got burned by having legacy systems that were never designed to talk to each other or, in some cases, new systems that they are not able to get the data back out of in ways they thought they could," said Andel Koester, associate director of What Works Cities, Results for America, an organization that looks to help small and midsized cities make use of their data to improve government services.
For this reason, many city leaders and IT officials have learned "the hard way" that they need to ask questions up front from vendors as well as in regard to their own expectations for the technology.
"This is the value of having … certain practices in trend and policy, like open data policies, and connecting those as the foundation to any smart city pilot or project or one-off," said Koester.
Before launching projects, she urges cities to sit down and sort out a common framework or set of expectations that covers everything from expectations for the technology to data and privacy standards.
"That work is really important," said Koester. "It's not as shiny or exciting as putting out a kiosk or an app, but it really is important if this work is going to be sustainable."
Rassco/Getty Images