Review: Cisco Router Packs Robust Networking Power into a Small Space
Features include a simple, pass-through front-to-back cooling setup and heat-tolerant components.
Faced with sprawling physical layouts and increasing costs, governments of all sizes are trying to consolidate data center services or eliminate their reliance on them altogether. But other than moving completely to the cloud — a transition not every government entity is comfortable doing — there have been few options until now.
The Cisco ASR 920 Series Aggregation Services Routers pack a lot of networking power into a small space. They are designed with open configurations so that network managers can deploy them to precisely support services and a specific number of users, and later expand as needed. I tested the ASR-920-12SZ model, which is designed for carrier-level access or specific applications, such as mobile backhaul operations.
I was surprised to find so much capacity inside a thin, 1U configuration. In addition to a powerful processor backed by 4 gigabytes of RAM, there are 12 1-gigabit ports and four dual 1Gb/10Gb ports for a maximum throughput of 64 gigabits per second. The unit can support as many as 20,000 simultaneous IPv4 and 6,000 IPv6 routes. You can even drive 128 multiprotocol label-switching VPNs. This would allow a single router to serve both internal government connections, as well as many public-facing applications, all with secure, speedy connections.
Advanced Networking with the Cisco ASR 920 Series Router
Right out of the box, the Cisco ASR-920-12SZ Router is an impressive piece of hardware. If you have fewer than 20,000 simultaneous IPv4 connections (or 6,000 IPv6), then you can probably get away with running most of the default settings.
But the ASR-920-12SZ is designed to do a lot more. I first tried prioritizing several types of traffic, and then simulated a service-level, pay-as-you-go agreement.
Prioritizing was easy with the multilevel priority queues feature. I simply prioritized each type of traffic into policy maps. These can be applied to other Cisco 900 series devices in networks that contain more than just a single unit.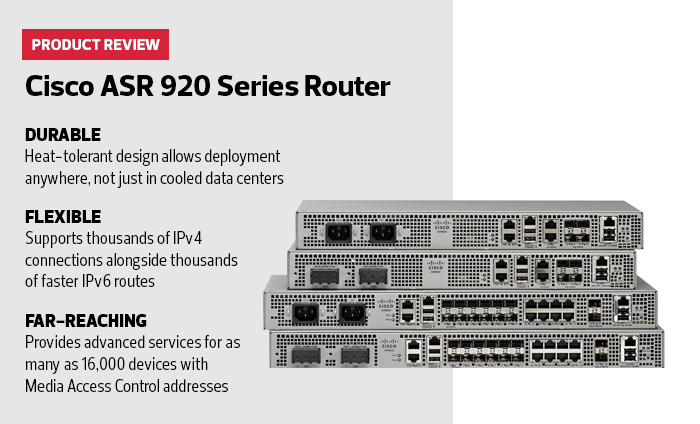 I gave traffic that tends to be sensitive to delays, such as voice and video, higher priority on the outbound link over other traffic types, like file transfers, for which a delay would not be a major concern. Rerunning the performance tests again, I found that the newly designated high-priority traffic went right through, while lower priority data experienced some delay when the unit was close to its maximum throughput.
It was a bit more complicated (but not that difficult) to also write policies into code, such as allowing a user with a specific Media Access Control address to have a higher priority than others. I could also track how much data different users were accessing, though this required a few more steps.
Still, working with such advanced capabilities was surprisingly easy using the intuitive interface. IT professionals should have no trouble squeezing even more highly configured performance out of the already impressive base unit.
Consider Cooling Components for the Router
Breaking away from a data center-only model, the router has a simple, pass-through front-to-back cooling setup and heat-tolerant components. I mounted the unit inside a test bed rack with a spot cooler blowing directly on it, and then again after hours without any cooling, and the performance was not measurably different. Simple room air conditioning should work for supporting the router, though it will get very warm around the machine.
To test the throughput, I set up traffic-generating appliances to simulate network traffic on both sides of the router, including different IPv6 and IPv4 connections. The router never paused, even when running close to its maximum, with a variety of different packet sizes and media types. All random cyclic redundancy checks passed, so no data was overly delayed or damaged in transit.
Having this level of performance, comparable to a data center, is impressive in a compact unit. State and local governments could easily use one or several 900 series routers to help manage the traffic of their offices, employees and applications, expanding capacity as needed while controlling expenses — all without jeopardizing performance.
Cisco ASR 920 Series Router
Max. Throughput: 64Gbps
Processor: Quad-core 1.2GHz
Max. IP Routes: 20,000 IPv4; 6,000 IPv6
Rackmount Size: 1U
Dimensions: 1.73x17.5x11.28 inches
Weight: 9.25 pounds