Q&A: Why Delaware State CIO James Collins Makes Centralization a Top Priority
The veteran state public official discusses what the future holds for coordinating governance in Delaware, how his state is using blockchain and its broadband goals.
As CIO of Delaware, James Collins serves on the cabinet of Gov. John Carney and heads the Department of Technology and Information. In those roles, he provides vital support to Delaware state agencies, which have some freedom to pursue IT agendas independently.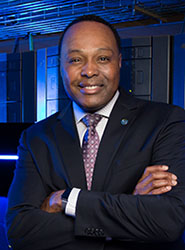 Delaware CIO James Collins. Photo courtesy of the Delaware Department of Technology and Innovation. 
Since becoming CIO in 2014, Collins has made a priority of coordinating IT governance for agencies. He's also realizing a long-term goal with the impaneling of an IT governance council to centralize governance and guidance for state IT authority. Recently, Collins sat down with StateTech to describe how that effort would pay dividends in the future, how Delaware is providing digital services to citizens and businesses, and how the state's investment in broadband access is paying off.
SIGN UP: Get more news from the StateTech newsletter in your inbox every two weeks!
STATETECH:

How will a future governance board bring more cohesion IT administration across state agencies and further centralization?

COLLINS: Like Stephen Covey, the late author of The 7 Habits of Highly Effective People, we need to start with the end in mind. Ultimately, we have to deliver digital government. The citizens will demand it. The leaders will expect it. I'm really focused on positioning us to be able to do that. To achieve that goal, there are some systems that have to be modernized. They're starting to run into other issues too with Payment Card Industry compliance and security. We need to be able to deliver government services with an enterprise approach.

When you deal with big companies where you have multiple accounts or products, you can go to one portal where you are able to manage all your business with that organization. That just historically hasn't been the case with government. We're very siloed in the way we deliver services.

There are some innovative things happening in Delaware's social services. For example, in our state, they are placing social workers in with probation officers to help offenders transition back into society in a way that they're going to be successful and not recidivate. We have to offer the same level of services from a digital perspective, where you're able to go to a portal, and whether you're trying to renew your driver's license, buy a hunting license, get a professional license or pay your taxes, you can do it in a way where you don't have to hunt and peck around government.

To do that, we've got to think enterprise. We've got to act as an enterprise. Centralization is positioning us to do that. For years, you've heard people talk about it in terms of cost savings. I do think there should be cost savings, but higher on the list, to me, is risk management. If you don't have a comprehensive and concerted security strategy, then it increases risk and vulnerability. That's exactly what you don't want to have. We have to evolve from that. 

Centralization is a way of putting all the IT people on the same page, standardizing on the technology that we use in order to close some of those security gaps, and try to mitigate some of the negative impacts that we've seen on government and private businesses from security breaches and disruptions. 
STATETECH:

What challenges might arise if you are not able to achieve 100 percent centralization?

COLLINS: In Delaware, the good news from that perspective is that all of our law enforcement agencies are on one system. Most other states have multiple criminal justice systems. That's the good news. The other news is that it's very complex. It's been developed over a lot of years on the mainframe. Some years ago, they started to use more modern technologies to develop the system, but it's still all based on the data that resides in the mainframe. 

From the end-user's perspective, the mainframe is not an issue because we're using modern technology, but when you dig down to the foundation, the mainframe is still supporting the system. If you talk to any of my colleagues, you'll hear challenges around human resources and increasing costs for software because of a shrinking market for mainframes. All of those present challenges to us. 

As I was speculating earlier, because of the complexity of the criminal justice system and the significant number of stakeholders that would be involved to change it, I think it will be one of the last standing on the mainframe. If that turns into any extended period of time, then we need to just make sure that we're able to support it because it's a mission-critical system. That could be us, or it could be a partner that specializes in that.
STATETECH:

 As you move to more of an enterprise-level system, what level of flexibility will agencies have to determine what their solutions look like?

COLLINS: Some agencies have suggested to me, "Hey, just bring all these agencies together, and let's figure out this mainframe thing." My response to that, right or wrong, is it's tough enough to eat one elephant. If you bring all the elephants in the room, I just think it's going to hinder progress. We're engaging the agencies separately. Although they have interfaces with the different systems, they all have different objectives and needs. The state has had success so far in migrating Health and Human Services away with its eligibility, Medicaid and child support systems. It migrated separately. Just the needs of an eligibility system all by itself are very complex. You try to stack criminal justice, finance and all those others on there, and it almost feels unobtainable. 

The Department of Transportation is on track to replace the Department of Motor Vehicles system, and it's focused on what its needs are. We help manage the back-end interfaces to make sure that all the systems can still talk to each other. The systems that have migrated off are still interfacing with the legacy systems as they need to. I just think that's a better approach.

Agencies will, as they should, be able to chart their courses. We want to be a strong business partner and a resource in that process.
STATETECH:

 Can you give me a little bit more insight into your goals and how simplifying services for Delaware citizens can help empower them?

COLLINS: Another aspect of the work is Governor Carney put in an executive order to make government more efficient. He established the Government Efficiency and Accountability Review Board (GEAR) with the goal of making us more efficient. 

Analyzing data can help us to do that. Merging data sets can help us to target the most pressing needs that we have in the state. I think it's going to help government be smarter in meeting the needs with the resources we have. Also, we can evaluate our effectiveness. How many people are actually using this program? Is it something that we should continue? It will help us monitor our performance, discontinue things that are not effective and reallocate those resources to areas where there are greater needs. 

When companies today want to increase market share or develop new products, they conduct an analysis and decide which direction they're going. We want to be in the same position to make data-based decisions as a government.
STATETECH:

 What are some milestones you're hoping to achieve in the next year?

COLLINS: We are about 60 percent centralized right now. The problem is that there are different agreements with each agency, which are unwieldy to maintain. One of our major milestones and objectives is to use the data from the statewide IT assessment to develop a comprehensive strategy for centralization that identifies the commoditized services across the government and how we are going to deliver those. That will bring some consistency to our charge back, our service catalog and things like that. It will help remove some of the friction between us and the agency partners as we're trying to work together to innovate. 

Later in the fall, we expect the final recommendations from the consultant firm that's conducting the analysis. I suspect that's going to result in changes to our enabling legislation, our budget and the budgets of other state agencies. We'll take the remainder of the calendar year to prepare for the next budget and legislative processes, which begin in January, for any changes that are necessary. 

Also, I think in the fall we'll launch our business one-stop portal, which we're developing for the business community to either start a business or manage their relationships with the State of Delaware. Ultimately, we want to have a citizen portal that does the same thing, as I alluded to earlier, but the governor has a priority for economic development. We wanted to help in that arena so we started the business portal first. We've got great partnerships from the departments of State, Labor and Finance to work on that initiative with us.

We're actually using a Salesforce platform and plugging all of their systems into that platform. Sometimes the sequence of things can paralyze us. This agency is not ready and it doesn't have the budget to modernize, and that one does. It's almost impossible to just move together, so we wanted to create a platform where all of them can plug into it. Then, as they want to change or modernize, each agency can do it on their own, but the citizens have a consistent user experience.
STATETECH:

 Can you speak about maintaining Delaware's reputation for being a very business-friendly state and how that has been incorporated into the court system?

COLLINS: Our blockchain efforts really are focused around corporate franchise business. Corporate business is a significant part of Delaware, our state budget and our identity. I say we're the corporate capital of the world and where most corporations are. We see the potential for the blockchain technology to modernize our approach in this area.

The blockchain initiative is managed out of the Secretary of State's office. The team has a pretty extensive stakeholder network to really make that worldwide presence happen. They're, rightly so, being very prudent about what steps they're going to take. They engaged their community. The first major step was to pass legislation to allow blockchain to be used in corporate transactions, and that was done last year. They engaged subject-matter experts to facilitate meetings with stakeholders around the technology and how it could be leveraged. Some of the things coming out of those meetings centered on the potential of leveraging smart contracts. I suspect we'll be seeing some specifics around a proof of concept in the near future. 

We're making steady progress on that front. I don't think that blockchain will be used extensively in government. When people talk to me about many blockchain applications, I say, "You don't really need blockchain to do that." It's on the tip of everyone's tongue today. We're certainly dipping our toe in the water to figure out if there is a viable path forward, but I do see some potential in our corporate franchise area. 
STATETECH:

 What progress has the state made when it comes to increased broadband access for citizens?

COLLINS: We have been working for years to expand broadband across our state and our strategy has been pretty consistent. We incentivize the private sector to build out into areas where it wouldn't otherwise be feasible for them to build, where there's not a dense population and a lot of subscribers. We started by awarding contracts to connect state buildings, schools and libraries. Once they bring the infrastructure into those areas, other populations are able to connect to that infrastructure and then it expands.

That has worked well over a lot of years, but not as well as we needed it to in some of our rural areas throughout central and southern parts of our state, where our beautiful beaches are. We have a lot of agricultural communities there as well. Agriculture is one of our largest industries. 

We've used some economic development funds as well as grant funds to incentivize vendors to build out infrastructure into those places. We've invested about $4 million, which has resulted in about $30 million of private-sector investment and about 700 miles of fiber. In those areas, you don't have the last mile, you have the last 15 or 20 miles. It's really expensive. We plan to leverage that infrastructure to extend service to underserved areas with wireless broadband.

We have a pilot going on in a couple cities right now. The preliminary results are very promising, so we're working on a request for proposals from wireless internet providers. My hope is, over the next two to three years, we can eliminate this rural broadband issue, increase competition and deal with the access and affordability issues related to broadband in our state.

Delaware is always in the top three for broadband access and speed, but we still have areas where kids aren't able to do homework and businesses aren't able to locate because they don't have the right infrastructure. Some in our agriculture community are not able to easily use and update their equipment. We're not going to stop until that's not an issue anymore.
traveler1116/Getty Images