Cities Clear the Way for Video Surveillance Upgrades
Municipalities have updated their cameras and supporting network, server and storage equipment to boost public safety.
Wendell Hissrich discovered early in his tenure as Pittsburgh's public safety director that nearly a third of the city's security cameras did not work properly. 
So in 2016, the Public Safety Department took over management of the system from the city's Department of Innovation and Performance, hired its own IT manager and had all cameras up and running within a year. The city also planned massive hardware and software upgrades and replaced nearly two-thirds of its 230 cameras, which were a decade old. The department made tweaks to the city's outdoor wireless mesh network, which transmits video to the city data center.
"Now that the hardware infrastructure and network are stable, we can focus on expanding the cameras into more parts of the city," says Public Safety Technology Manager Daniel Shak, who oversees the effort.
Surveillance cameras have become pervasive in many cities in recent years. Privacy concerns aside, IP-based video cameras can improve security, discourage people from committing crimes, provide first responders with situational awareness, help police solve crimes and serve as evidence to secure convictions.
But cameras can't function alone. As local governments populate their streets with more cameras or upgrade to high-definition or 4K cameras, they also have to upgrade their networks, servers and storage equipment to handle the increase in massive video files. Some cities embrace cloud storage and beef up their camera systems with new applications, such as gunshot-detection technology and video analytics.
While some U.S. cities are implementing surveillance cameras for the first time, many are expanding their existing systems, says IHS Markit Principal Analyst Jon Cropley.
"It's a mix," he says. "The U.S. as a whole has been installing a high rate of cameras for longer than many other countries. A higher proportion of new equipment, therefore, is for upgrading or adding to existing systems." 
VIDEO: See how Rensselaer County, New York, uses tech to enhance public safety! 
Pittsburgh Upgrades Cameras and Virtual Storage 
Pittsburgh is a city doing just that. Today, Shak looks to improve the city's camera system in phases.
First, Shak checked the network and cameras. He discovered that, in some cases, the line of sight between radios on the cameras was blocked by tree growth or new construction, preventing portions of the network from backhauling video to the city's data center. To fix the problem, the city trimmed trees and moved radios.
Shak also deployed SolarWinds, software that monitors the network's health and alerts IT staff of problems.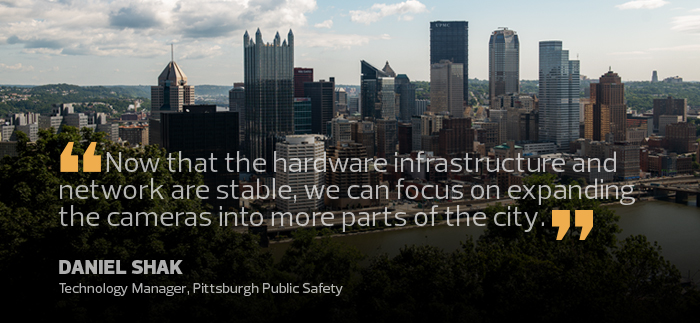 "It tells us proactively, 'this link is not as healthy as it used to be, or it's experiencing issues,' and then we investigate," he says.
IT staff segregated network traffic into its own virtual LAN for better security and to ensure that the city's different applications offer good quality of service, he says.
He replaced two-thirds of the cameras because most were no longer covered under warranty. Pittsburgh upgraded from analog to HD cameras from Axis Communications and Hanwha Techwin. 
Next, Shak upgraded to the latest version of Genetec's video management software and worked with the city's Department of Innovation and Performance to migrate it from stand-alone servers to a VMware virtualized environment. The system runs on six virtual servers for redundancy, and he can quickly spin up more virtual servers or dedicate more virtual storage space to ensure good performance as the camera system grows across the city.
"If we run out of storage, we just add more storage to the virtual environment," he says. "We can add resources with no downtime. We no longer have to take servers down to add a new server."
With the network stabilized, Pittsburgh recently launched a three-year, $3.8 million effort to double the number of its cameras to 460 and integrate them with gunshot detection systems.
"We may not have a camera filming when an incident occurs, but we may catch someone fleeing, or a vehicle speeding away," Shak says. 
MORE FROM STATETCH: Discover how police departments upgrade storage to keep pace with large volumes of surveillance video!
Houston Camera System Boosts Super Bowl Security
In 2007, Houston began building a state-of-the-art surveillance camera system, the Public Safety Video Network, which has grown to 900 IP-based Axis and Sony cameras. It provides access to 400 additional cameras owned by the city's sports venues, Texas Medical Center and other private entities.
When Houston hosted the Super Bowl in 2017, it built a second, temporary camera system to monitor Super Bowl Live, a nine-day festival with concerts, food and interactive experiences at Discovery Green, a 12-acre park.
The city's existing cameras overlooked the park, but the event's temporary buildings, tents and banners blocked camera views. Those temporary structures, combined with wireless traffic from the mobile devices of attendees, also had the potential to interfere with the city's point-to-point wireless backhaul, recalls Jack Hanagriff, a Houston police officer assigned to the city's Homeland Security Command.
"They were either blocking our cameras or interfering with our cameras' backhaul," he says.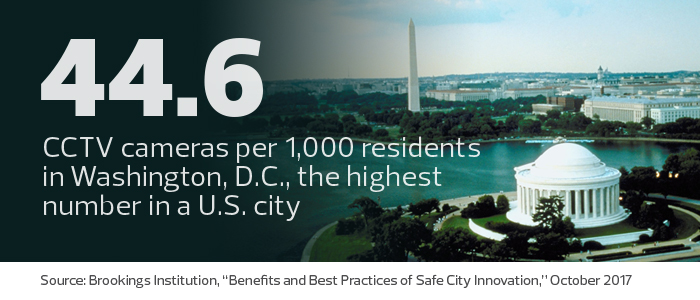 Houston Partners with Vendors to Enhance Safety  
Houston collaborated with tech vendors, who donated equipment and services to build the second camera system. Axis donated 40 cameras. Verizon provided the infrastructure and cloud-based storage. And the city's video management software vendor integrated the new cameras into the existing camera system, allowing first responders to access both systems simultaneously.
"We used our existing cameras to monitor crowds and look at traffic patterns so we could make decisions on street closures," says George T. Buenik, the mayor's director of public safety and homeland security. "We used the second system as a deterrent, but we also wanted to capture everyone coming into Super Bowl Live, so if we did have an attack, we could go back to the cameras and ID the person."
No major incidents occurred, but the new camera system did keep attendees safe. The Axis cameras had thermal imaging, allowing authorities to see people at night. When a few people passed out during concerts, firefighters brought them to safety, Hanagriff says.
"We could see who was laying down, and our fire department was able to help them," he says.
The city repurposed the second camera system after the Super Bowl. Since then, the Mayor's Office for Public Safety and Homeland Security has partnered with vendors to test new technology, including gunshot detection systems and video analytics software.
MORE FROM STATETECH: Read about how the New Orleans Real Time Crime Monitoring Center monitors public safety threats! 
Lafayette, Ind., Stays Current with Its Surveillance Tech 
In Lafayette, Ind., 132 IP-based surveillance cameras grace buildings, parks and a bustling downtown with stores and restaurants, thanks to the city.
Andy Milam, the city's IT director, regularly upgrades cameras not because they break, but to take advantage of the latest technology.
"None of the cameras have stopped working because of old age," he says. "The compelling reason is to get higher resolution cameras as prices continue to come down and image quality goes up."
Last year, he swapped out five older downtown cameras with new 8-megapixel Axis P3707-PE fixed cameras, providing 180-degree views. He also furnished City Hall and other city buildings with new 4K Sony VM772R dome cameras.
"You can home in on certain areas, and because it's higher resolution, you can zoom in and the image doesn't get distorted," he says.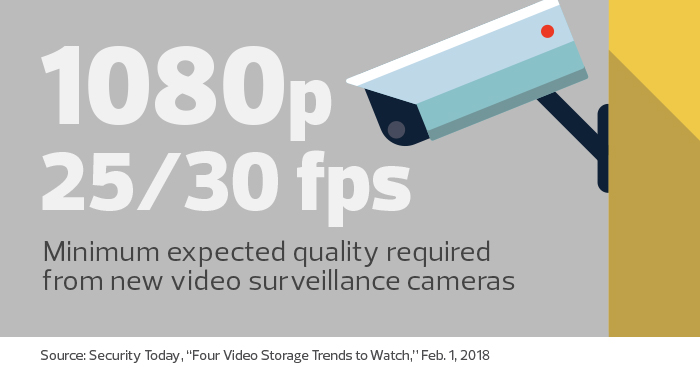 Lafayette initially installed analog cameras in city buildings in the early 2000s and, over time, upgraded to HD cameras. The city began adding surveillance cameras to downtown in 2012. City officials contracted with an internet service provider to run fiber optics to traffic controllers to run the city's stoplights.
"It's been great for IT because there is now a big metal box with power and fiber optics on every corner," he says. 
Each traffic controller has a Cisco Industrial Ethernet 3000 or 4000 Series switch inside, which backhauls the video footage back to the city's data center. All the city needs to do is string CAT 6 cabling up the arm of each traffic light. The surveillance cameras are powered through Power over Ethernet ports on the switch, Milam says.
Milam also upgraded storage. Last year, he replaced an old storage area network with a new Dell PowerEdge R730 server with 60 terabytes of hard-drive space for video.
To save on storage, the city stores only 40 days of footage, Milam says. He's also set cameras to record only when motion sensors are triggered, and he's reduced recording quality from 30 frames per second to 10.
"We are not making a Hollywood motion picture. We drop it down to 10 frames a second and take the stress off the network and recording server," he says.
Overall, city IT leaders say security cameras have made a big impact. For example, the cameras have stopped fights that used to erupt at a local park's basketball courts.
"That effectively fixed it; the fighting magically stopped," Milam says
Photography by Rob Larson