Review: HP OfficeJet Pro 8720 Provides Quality Printing for Small Government Workgroups
With its compact size and high output, this printer offers a great deal of capability and functionality.
State governments may be big organizations overall, but in order to directly help citizens, they are broken down into small, specialized groups that work on everything from zoning to tourism. While sharing large pieces of office equipment might be practical in some cases, it's probably more efficient for many state workgroups to be partially self-sufficient.
That's the idea behind the new HP OfficeJet Pro 8720 multifunction printer. It's designed to give small workgroups access to the same functionality found in large machines, without the big price, deployed at the enterprise level. It's limited only by the volume that it's designed to produce — no more than 2,000 pages per month is recommended — but not by output quality or number of functions.

OfficeJet Pro 8720 Offers Lots of Functions in a Snap
The OfficeJet Pro 8720 is a true multifunction machine, capable of printing in black and white or color as well as faxing, copying and scanning documents. It can do all of this at a surprisingly fast pace. In my testing, its top speed for color printing was up to 20 pages per minute; it was 24 pages per minute for black and white. 
Setting up the OfficeJet was a breeze. The 8720 supports wireless networking, users only need to physically attach a power cord. Once configured, working with the printer using the full-color 4.3-inch touch-screen display is extremely easy.
Government Users Get Big Quality in a Small Device
In terms of quality, the 8720 really delivers. The HP ink, the only kind the 8720 will accept, is designed for perfect blending and quick drying. Color prints look like photographs. Fine details such as the seals on permits or the lines on blueprints are rendered accurately, and text is always crisp and readable.
The HP OfficeJet Pro 8720 provides a level of quality, ease of use and number of functions normally associated with more expensive printers. The 8720 delivers all of that, and it is ready to serve any state's workgroups.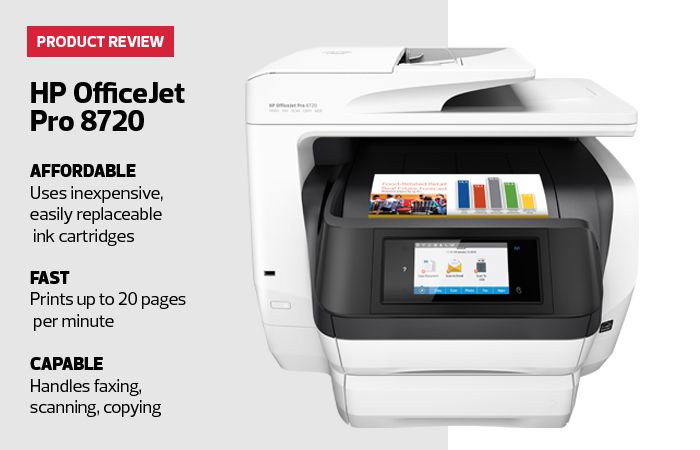 Bountiful BYOD Printing with the HP OfficeJet Pro 8720
In recent years, state governments have really started to deploy mobility programs to enable employees to reach out and better serve constituents. In some states, this has been done using state-owned devices that are deployed to workers. In others, it's accomplished by supporting BYOD programs and letting private smartphones work with government programs.
The HP OfficeJet Pro 8720 is designed to work with either kind of mobility program. It allows printing from any smartphone or device that is registered on the same wireless network as the printer. No special codes or passwords are required other than being authorized by the wireless network. This interesting setup allows for some security, depending on how well a state's wireless network is configured, while also not slowing down authorized users from fully using the printer's functions from their mobile devices.
Users with Android phones must download the free HP ePrint app from the Google Play store. To print, users select the ePrint app and their printer of choice. The app is fully functional, allowing changes to the printer like landscape or portrait printing, color or black-and-white settings, adjusting print quality and other options. There is even a preview function that renders the document on the smartphone's screen before starting the print job.
With Apple iOS devices, the process is even easier. Apple devices already have all the software needed to print using the HP OfficeJet Pro 8720. As with Android phones, the device needs to be logged in and authorized on the same wireless network as the printer. Thereafter, the 8720 will be an option for printing and fully configurable.
In terms of mobile extras, the OfficeJet even supports near-field communication to further simplify the process. All a user must do is touch an Android device to the printer to send documents. That was a totally unexpected feature to find on a $300 printer.
Mobility programs are increasingly important for state governments, and the HP OfficeJet Pro 8720 fully supports them in all forms. Whether printing remotely from an iOS or Android device or using near-field communication to directly transfer documents, the HP OfficeJet Pro 8720 offers great functionality for wireless devices and their users.
HP OfficeJet Pro 8720
Print Technology: Thermal inkjet
Best Print Resolution: 1200x1200
Recommend Monthly Page Volume: Up to 2,000 pages
Page Capacity: 250-sheet internal tray
Dimensions: 19.7x17.7x13.4 inches
Weight: 33.02 pounds
HP