Technology Helps Law Enforcement Spend More Time on the Road
WAN optimization and a virtual desktop upgrade improve remote access to information and applications for the Linn County Sheriff's Office.
Linn County, in the middle of Oregon's Willamette Valley, about 80 miles south of Portland, is known for its rural vibe and a distinction that connects it with sports fans — grass seeds produced by area companies provide the lush greenery preferred by builders of professional soccer fields and PGA golf courses in the U.S. and around the world.
In keeping with its rural nature, the county Sheriff's Office puts a high priority on community engagement to forge close ties with citizens and promote public safety. The office's deputies try to spend as much time as possible interacting with county residents and fewer hours in the office. But this can be a challenge when the IT systems that officers depend on put roadblocks in the way.
One such roadblock materialized when deputies had trouble accessing and uploading records from satellite offices across the office's 2,300-square-mile jurisdiction. But with the help of CDW•G, Linn County now has in place a modern virtual desktop infrastructure (VDI) and wide area network (WAN) optimization solution from Citrix Systems that improves access to essential resources and helps deputies focus on serving the community.
As a result, Sheriff's Office staff has access to authorized records and applications. In addition to enhancing efficiency, the system enables managers to shift spending priorities. "We don't issue as many laptops and docking stations as we used to," says Staff Sgt. Micah Smith, whose responsibilities include oversight of the department's IT team. "Instead, we buy them a thin-client terminal for their desks, and many receive an iPad for accessing their virtual environment. In this way, we've created mobile offices for users."
The VDI system and network improvements give users greater access to the important data they need to do their jobs, improving their efficiency. These technologies also reduce the burden on IT staff, freeing them to focus on initiatives aimed at accomplishing the Sheriff Office's public-safety mission.
Validating the Need for VDI
In an effort to reap the benefits of desktop virtualization, Smith and his three-person IT staff implemented a limited rollout of Citrix's VDI-in-a-Box appliance in 2012. "We saw it as a way for any deputy to pull into any satellite office or substation and view a virtual desktop that shows all the applications and information that would be available at headquarters," Smith explains.
In addition to giving authorized users access to departmental information from any Internet-connected location, VDI promises to ease the need for the three-person IT department to physically interact with every workstation to install updates or diagnose problems. The approach also provides desktop workspaces tailored to the preferences of each user. "With our traditional workstation deployment, people often sat down at a machine in a remote office only to find unfamiliar settings that would make them less efficient than in their usual environments," Smith says. "With VDI, deputies would have the same experience in a satellite office as they would if they were sitting at their regular workstations."
More importantly, the right VDI foundation can make it easier for deputies to access case files, reports and evidence documents. In the past, when these files were saved to stand-alone desktop computers, deputies often had to spend valuable time driving back to their offices to resume working on a report or to grab a needed file. When this information is stored centrally, it is accessible via notebook PCs and tablets from field locations, eliminating unnecessary driving and leaving more time to spend in the community.
Deputies weren't the only ones who stood to benefit from VDI. The remaining 100 or so Sheriff's Office users working in corrections, dispatch and other key areas also could see advantages, Sheriff's Office managers reasoned.
When More Network Needs Arise
While the limited pilot validated some of these advantages, the Sheriff's Office quickly realized it needed a more robust VDI application and supporting infrastructure to reach its goals. It also needed to boost its wide area network (WAN) through WAN optimization technology.
This became clear when personnel were encountering unacceptably long transmission times as they tried to stream graphics, video or audio files from thumb drives or CDs to folders in the data center. "The network connection just couldn't support the VDI environment," Smith says. "A process that was taking 10 minutes at headquarters needed hours to complete in the field. We couldn't have deputies spending time waiting for disks to burn; we wanted them back out on their patrols serving the public. That's when WAN optimization really came to the forefront."
Smith and his staff, therefore, redoubled their VDI efforts. "I went into the budgeting process for the 2015–2016 fiscal year saying, 'We need WAN optimization on a serious level for our satellite offices. And by the way, we also need a new VDI application,' " he says.
When the funding was approved, the department turned to CDW•G and Citrix for help. "Our CDW•G rep recommended a package that met all of our needs from both a capabilities and budgetary standpoint," Smith says. "He created a holistic solution that checked off all of our requirements and avoided a piecemeal approach with multiple stages."
"I consider myself a vendor-agnostic resource for clients," says Mike Joyner, the CDW•G field solutions architect who scoped the project. "First, I listen to their requirements. I want to hear what problems they're trying to solve and what their overall goals are. Once I gather those requirements, I try to match them with the proper solution. Only then do I look for particular vendor offerings."
The package Joyner helped create included Citrix XenDesktop as the desktop virtualization component, Citrix NetScaler VPX for WAN optimization and Citrix CloudBridge for efficiency in connecting the multiple locations. "A value-add that we brought to the table was our ability to leverage multiple vendor relationships to orchestrate the best solution in this area," Joyner says.
XenDesktop was an attractive VDI component for a number of reasons. First, because it and VDI-in-a-Box are Citrix products, the new interface was familiar to users of the existing system. The similarity of the two products also made it easier to transfer key elements of the old system to the Xen platform. This included the individual profiles that had already been created for VDI-in-a-Box users. "The IT staff was concerned about migrating profiles. They didn't want to rebuild everything from scratch," Smith recalls.
CloudBridge became the top choice after the office staff tested several solutions. "Ultimately, we decided that the best way to optimize our traffic was to use a solution from the same company that was providing our virtualization technology, which was Citrix," Smith says.
That decision was validated in subsequent tests. "CloudBridge performed more than 300 percent faster in apples-to-apples comparisons conducted before and after our deployment," Smith reports.
Best of all, the entire package, including platinum-level support from Citrix and configuration services, aligned with what Smith had estimated in his budget proposal.
How VDI Has Paid Off
Now that the new VDI platform is nearly fully deployed, the Sheriff's Office is seeing a range of benefits. Sgt. Dave Lawler, a deputy who's often on patrol and frequents satellite offices, says VDI helps him use his time more efficiently. "In the past, I'd create reports in the car and save them to a thumb drive," Lawler explains. "Eventually, I'd come back to a substation to burn CDs of photographs and videos, which would be sent to headquarters via interoffice mail. Now, it's a lot easier."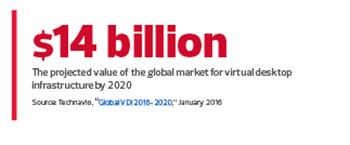 Using the new system, deputies save reports and associated media to rights-based, networked case folders stored in a data center. Even large audio and video files can be sent via the WAN. Officers also have fast access to information, including internal reports and databases from both the state's Department of Motor Vehicles and the federal National Crime Information Center. "When I go to court, everything I need is right there with me," Lawler says. "I don't have to go to Records to burn a copy of a CD with photographs and other information. And the District Attorney's Office is able to see everything we have on file, thanks to the new system. That's a big advantage in terms of sharing files and photographs."
The Sheriff's Office small IT staff must work as efficiently as possible to serve the needs of the entire office, and the new VDI solution helps it do just that. For example, updating workstation images throughout the office and all its physical locations is now done by changing a master image in the central data center. In the past, IT administrators would have to update each device individually.
Among the system's other benefits, it has almost completely eliminated malware infections, thanks to centralized security management. The IT staff is using time it has saved since deploying the new VDI system to modernize a 25-year-old records-management system and computer-aided dispatch application. "We can allot time to implement the new records management system because we're no longer having to devote so many resources and personnel hours to managing workstations and updating images," Smith says. "I don't think our team could have taken on the records-management modernization if we hadn't moved entirely to VDI."
Robbie McClaran