Minnesota Builds Partnerships and IT Project Success with Agile
State CIO Thomas A. Baden Jr. explains how the incremental, managed approach helps his team deliver better IT services.
Agile development delivers indispensable value for our organization — and most any organization — because it builds partnerships, by design.
The methodology fuses business prowess with technical creativity, providing incremental delivery of IT projects on a managed cadence; it's the art and science of constant and active delivery, throughout a solution development lifecycle.
At Minnesota IT Services, we work with myriad state agencies to deliver technology solutions that transform how government provides services for our citizens. We work across our organization and with other agencies to build partnerships that ensure success. Bringing together the business of state government and the complexity of technology, we strive to provide solutions that benefit all Minnesotans, and nothing helps us to achieve that mission better than agile development.
Agile methodology calls for an iterative approach to technology projects, with continuous testing and integration. The idea has transformed Minnesota's technology vision for the future, helping teams move away from an era when IT worked in silos, waiting to be fully finished with a project before we returned to show what we had built.
SIGN UP: Get more news from the StateTech newsletter in your inbox every two weeks
Keeping IT Processes Up to Speed
In the past, we sat down with our partners to gather requirements; then, list in hand, we set off to begin the build. A year — sometimes years — later, when we delivered the final product, we found that things had changed. Without a feedback loop, we missed the reality of those changes and the constant, iterative nature of business and technology.
Today, our lives, our work and the ways we connect with one another continue to change rapidly. In Minnesota, as in all states, we need technology to move forward to ensure we serve our citizens as effectively as possible. Uniting agile methodology and cloud technology across the state will help us leverage connections between process and creativity.
Accelerate IT Delivery with Agile
The agile approach continues to gain traction with government agencies. A recent survey of state CIOs and other state agencies conducted by NASCIO and Accenture found that more than 80 percent of respondents use agile methodology, and a large majority say they have enjoyed better customer engagement and satisfaction.
Those findings aren't surprising. Agile development allows teams to scale their efforts, learn from the challenges encountered, change direction and move forward. Ultimately, agile assists in the delivery of much better, higher quality products because it eases acceleration of our service delivery to meet business needs.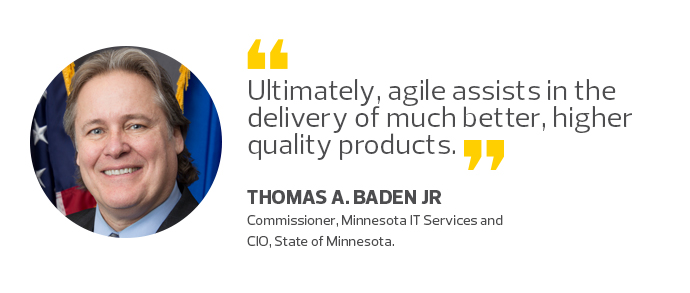 Minnesota IT Services provides enterprise and local IT services on one secure network to 87 counties, 300 cities and 200 public higher education campuses. But we do not work in IT for IT's sake. We work to help those citizens who depend on state services in their daily lives.
We realize our customers are Minnesotans who need our services to support themselves, their families and their work. Agile methodology provides flexibility at the local level, helping us achieve greater reliability and a higher level of service.
Cloud Gives Agile the Boost It Needs to Move Forward
Our effort to embrace agile development isn't really about technology at all. It's about people. It's about making things simpler, better and faster for regular citizens, and transforming the perception of how government can serve the entire community.
We have more work to do, but our transition to the cloud moves the state toward that goal, and allows us to focus on the possibilities ahead. Adopting an agile philosophy and implementing cloud technology are like writing words and composing music. Individually, they have merit, but together, they can create something truly great.