Review: Panasonic's Toughbook 33 Is Designed for the Demands of Public Safety
Panasonic's Toughbook 33 is the first fully rugged detachable tablet with a 3:2 aspect ratio.
First responders and law enforcement officers use technology in harsh conditions, under high stress. Since the 1990s, rugged laptops have been a go-to device to meet those demands. The Panasonic Toughbook 33 maintains this legacy.
This version is designed with the form factor of the popular Toughbook 20 but adds a larger screen. It features the same vehicle dock, protecting existing investments in Panasonic technology and saving departments time and money.
What's more, the Toughbook 33 offers the first fully rugged detachable tablet with a 3:2 aspect ratio. This, combined with the 12-inch diagonal screen, creates a viewable area that more closely resembles an 8.5-by-11-inch piece of paper, ideal for viewing scanned documents when time is critical.
The tablet screen is functional in the rain and responsive for users wearing gloves, and the device passes durability tests for a range of risks, including shock, vibration, altitude and freezing. The premium keyboard is sealed and includes a kickstand and handle for easy transport.
Panasonic Toughbook 33 Packs a Power Punch
The tablet comes with a seventh-generation Intel i5-7300U processor and 8 gigabytes of SDRAM, as well as a 256GB removable solid-state drive, supplying plenty of power for most applications. Two 1190 mAh hot-swappable batteries provide more than 10 hours of use; optional 4120 mAh long-life batteries can double that time. In my test running a 1080p video on loop, the twin batteries lasted 12 hours, 42 minutes.
Cameras in the front and back of the device each offer advanced features. The front (user-facing) 1080p camera is equipped with a dual-array microphone and infrared capabilities. That helps Windows Hello identify faces for login, even in the most extreme conditions. The rear 8-megapixel camera autofocuses nicely and has a triple LED flash for capturing accurate pictures.
The touchpad is on the small side, measuring 3 by 1.5 inches. But with an easy-to-use stylus and a responsive touch screen, this may not be an issue.
The premium keyboard's features are worth the extra cost: Backlit with a light red glow — which is helpful at night — the keyboard allows the clamshell to open a full 180 degrees in thick tablet mode, and provides a rugged handle that tucks into the base when not in use.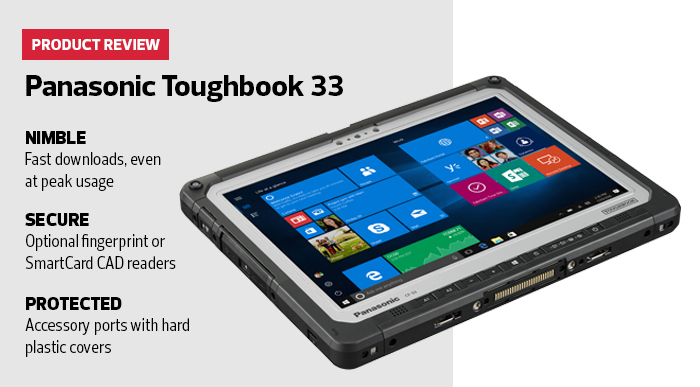 Adjusting the Toughbook Experience
Panasonic's Toughbook 33 includes a convenient administrative console to adjust settings and check status.
All of the screens are touch-enabled: The buttons are large, the drop-down menus are simple, and users can configure everything with a finger, even while wearing gloves.
The status section includes simple graphical displays of each of the two batteries. Users can adjust brightness, volume and microphone input with screenwide bars. An optional "Adaptive Brightness" checkbox activates ambient light sensors to adjust backlighting.
In the settings section, power management options allow users to manually control the fan, screen saver and Intel display power-saving technology, which adjusts picture quality.
Touch-screen settings let users shift among standard, touch (glove) and touch (rain) modes depending on preference and environmental conditions. Always-on and quick-charge settings can be disabled via the USB ports, although I can't think of a use case for turning them off. Network and camera settings offer simple features, such as enabling or disabling certain network protocols or the front- or rear-facing camera.
A separate utilities section provides for further camera adjustments, and here the available settings are rich: Along with ordinary settings for brightness, resolution and contrast, users will find flicker correction, burst mode, geotagging and barcoding options, plus a preview of how each setting changes the image.
Panasonic Toughbook 33
Display: 12-inch 2160x1440-pixel touch screen
Storage: 256GB removable SSD with heater
Memory: 8GB LPDDR3 SDRAM
Processor: 2.6GHz Intel i5-7300U vPro Processor (i7 available)
Warranty: 3 years parts and labor
Dimensions: 12.3x11.4x1.8 inches
Weight: 6.1 pounds (tablet only)
More On