5 Smart City IoT Use Cases to Keep in Mind
Cities can use innovative connected technologies to improve municipal service management, utilities, public safety, transportation and healthcare.
Smart cities come in all forms, shapes and sizes, and no one approach to infusing connected technology into a city's operations is right for every locality.
However, there are some common use cases and best practices that all cities looking to become smart cities or enhance their existing initiatives can follow. This is especially true if city governments look at smart city programs through the lens of resident engagement, or how users actually interact with services.
Last month, the Georgia Institute of Technology's Center for the Development and Application of Internet of Things Technologies released a white paper, "Driving New Modes of IoT-Facilitated Citizen/User Engagement," which explores IoT as not merely a collection of technologies, but as a force with "societal impacts and benefits as well as social outcomes that can be advanced, enhanced and simplified by the use of 'smart' technologies."
"Through data capturing, sharing and processing, both the private and public sectors can devise specific, data-driven solutions integrating social, economic, policy and contextual inputs," the report says. "User feedback will ensure that the solutions are meeting citizen needs."
Cities must address a variety of stakeholder needs and concerns as they justify and develop smart city projects, according to the white paper. City residents "must receive sufficient information to enable them to develop a clear understanding of how the data is being used, and who has ownership and control of this data," the report says, emphasizing the importance of security and privacy.
The report also explores five key use cases for IoT in smart cities: municipal service management, utilities, public safety, transportation and healthcare. All of these share common elements and must be secured properly.
"Whether the device is a smart energy meter, a parking meter, a pressure valve, or an environmental sensor, all of these devices require at least some level of onboarding, management, and data security," the white paper says. "As the asset classification and primary tasks become more critical, the required data security model protecting the system of systems that consume this data, and in some cases provide Supervisory Control and Data Acquisition (SCADA) functionality, must be implemented with an interoperable, standards-based approach."
Here is a breakdown of the five key use cases outlined in the white paper, and how cities have implemented them in the real world.
1. IoT Can Improve Municipal Service Management
The white paper notes that there is no clear definition of what municipal services are or should be, since local authorities differ between countries in terms of their size, functions, degree of autonomy and objectives. Common examples include police protection, fire protection, public recreational facilities, public libraries, public schools, public health, public welfare, and the maintenance of roads and streets, as well as sewage and trash disposal, if those services are maintained out of revenue derived from a general charge for municipal-type services.
In general, the report notes, smart city technologies are intended to improve how municipalities engage with, and deliver services to, their citizens.
Trash collection is one area of municipal services to which cities and IoT companies have turned their eyes (and maybe held their noses). San Francisco-based startup Compology produces a sensor to be placed inside of a garbage bin that takes a picture of its contents, automatically analyzes it, and then optimizes routes for trash collectors based on which bins need to be emptied.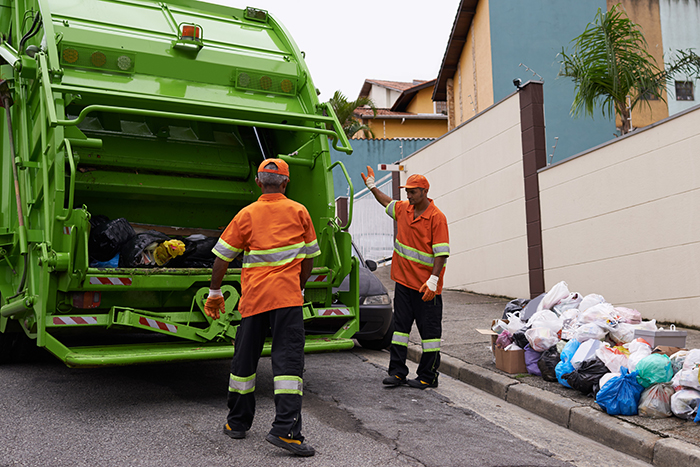 Cities can use IoT to make trash collection more efficient. Photo credit: People Images/Getty Images
According to Navigant Research, the global smart waste collection technology market is expected to grow from $57.6 million in 2016 to more than $223.6 million in 2025. Several cities — including Boston and Baltimore — already use smart trash cans with real-time sensors for city sidewalks, with the aim of improving trash collection efficiency.
2. Utilities Can Become More Efficient in Smart Cities
City utilities must enhance security while simplifying compliance as the industry adopts IoT and cloud technologies, the white paper says, allowing administrators "to focus efforts on improving public and personnel safety and transforming data from the grid into insightful business intelligence."
As IoT introduces millions of devices and latency-sensitive transactions, the white paper notes, utilities' traditional cloud-only approach "will need complementary capabilities at the edge."
"Edge computing allows applications to execute within the IoT network, providing the intelligence to analyze data locally and generate actions like closing a switch," the report adds. "By giving the gateways and endpoints at the edge the ability to handle computational tasks, organizations reduce the amount of data that needs to be sent to the cloud for processing, analysis and storage."
While most cities are not fully invested in edge computing for smart utility monitoring, many are on the journey toward deploying connected technologies to make utilities more efficient.
In Cary, N.C., city officials took advantage of the need to upgrade water meters as part of a wider smart city initiative, meaning residents can better monitor their water usage, and the city can pinpoint leaks before they run up costs.
Meanwhile, Boston's Smart Utilities Project, established in 2016 by the city and the Boston Planning and Development Agency, aims to develop "strategies for more equitable, sustainable, affordable, resilient, and innovative utility services in the City of Boston," in part by incorporating innovative technologies into the underlying utility infrastructure.
3. IoT Can Boost Public Safety Efforts
The white paper notes that a main consideration in designing and implementing public safety services is that "cities are building a system of systems composed of large heterogeneous and independent systems that leverage emergent behavior from their interaction. Specialized engineering and design focus on the needs of vulnerable populations is required to build a robust system of systems."
For example, the FirstNet nationwide public safety broadband network provides a connected infrastructure that can be used by first responders to support IoT devices, the report notes. "Aside from the ability of IoT to provide robust network services, sensors and devices specifically at the individual level offer promising potential," the white paper says. "Public safety responders equipped with IoT-based devices will be able to use data flowing between on-site responders and command centers to generate information about an event scene or intervention status and provide information-based support for critical decisions."
Lindsay Notwell, senior vice president of 5G strategy and global carrier operations at Cradlepoint, writes in StateTech that, as 5G wireless networks get deployed in the years ahead, "we can expect to see a major uptick in IoT device adoption for first responders as new sensor-based tools become available."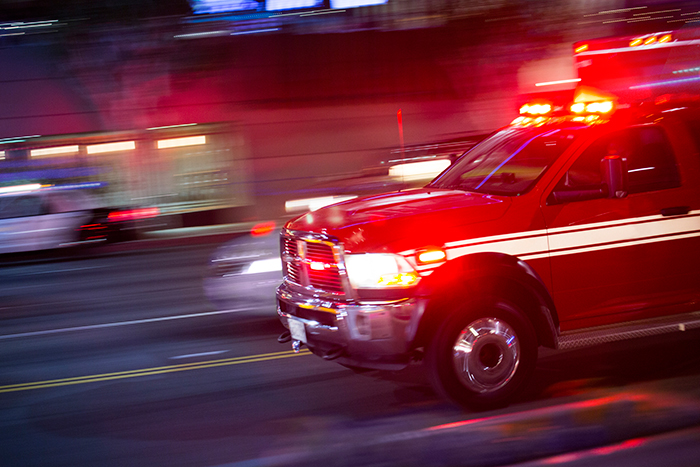 IoT can help first responders gather and analyze more information about incidents. Photo credit: MattGush/Getty Images
For example, Notwell says, "an IoT sensor might be employed in a police vehicle to alert headquarters when a shotgun is pulled from a squad car rack. The sensors will alert operations that the weapon has been put into use and allow operations to tap into the cameras to see what's happening."
IoT sensors can enhance public safety in smart cities beyond directly helping first responders. For example, Portland, Ore., plans to install 200 smart sensors around the city's three deadliest streets to help monitor traffic. Portland says the sensors, which are being installed on light poles, will provide constant counts of vehicles and pedestrians, as well as data about vehicle speeds. Using the data collected by the sensors, the Portland Bureau of Transportation's staff "will use the sensor information to make recommendations about future changes" to make it easier for pedestrians to walk and cars to drive on city streets.
4. Cities Embrace Connected Transportation Infrastructure
Connected transportation is one of the most popular smart city use cases, but the report notes that it is also one of the most complex.
"Recognizing that the modernization of transportation infrastructure is a shared responsibility, stakeholders must implement trusted data-sharing practices between municipalities and the private sector to fully realize the benefits of an IoT-enabled infrastructure," the white paper says.
A variety of cities are piloting connected transportation initiatives with disparate aims.
Columbus, Ohio, is deploying IoT technology on streets and in vehicles to improve general vehicle operator safety, safety at intersections and in school zones, the schedule reliability of transit vehicles, emergency response times, motorists' adherence to red light laws, and traffic management capabilities.
Sacramento, Calif., is partnering with Verizon to embed sensors into the city's pavement and install cameras on traffic lights. The city and the carrier then will study and analyze the flow of traffic, and use the data to optimize the timing of lights so that traffic flows easier and travel times are shorter.
And in Kansas City, Mo., the city is moving forward with its Smart City Initiative, and also plans to expand its KC Streetcar, a 2-year-old transit system that wends its way through parts of downtown Kansas City. The KC Streetcar has served as "a laboratory" of sorts in deploying smart city technology, Kansas City CIO Bob Bennett told StateTech in a previous interview. The city has partnered with Cisco as a strategic partner on the project.
And as StateTech reported:
Kansas City's Smart City corridor is a $15.7 million public-private partnership offering free public Wi-Fi, smart streetlights and sensors along the KC Streetcar's 2-mile-long route. The city embedded technology supporting these capabilities along the streetcar route, often mounting cameras, sensors and Wi-Fi hubs on lampposts and elsewhere.
5. IoT Can Enable New Ways of Delivering Healthcare Services
IoT technologies are expected to "improve the operational efficiency of hospitals and other healthcare facilities and, through telehealth, telemedicine and telecare, enable healthcare providers to optimize the use of their resources," the white paper says.
Further, IoT is also expected to "change the lives of people with disabilities and senior citizens by giving them access to direct assistance and support, thereby fostering their independence," the report says.
Last year, Sidewalk Labs, the smart city arm of Google's parent company, Alphabet, spun out its public health unit, Cityblock Health. The company aims to leverage technology alongside new care models to better serve underserved populations and level the healthcare playing field.
The company hopes to go after every aspect of the healthcare system, from insurance offerings to provider interoperability to patient education. In April, Cityblock health inked a deal with its first big client, EmblemHealth, one of the new York City's largest insurers, Crain's New York Business reports.
GaudiLab/Getty Images