Pittsburgh Is Building a Tech-Focused Government
The city's leaders have embraced innovation from several angles, driving growth with a focus on new technology.
Pittsburgh was once known as the capital of the U.S. steel industry but is forging a new identity. In response to increasing automation, the western Pennsylvania city has evolved to embrace technology and has emerged as a leader in innovation.
In 1983, unemployment in Pittsburgh reached more than 17 percent with the fallout of closing steel mills. But a report commissioned in 1990 moved the city to push development in five areas: finance, energy, IT, manufacturing and healthcare, according to a recent National League of Cities report.
As a result, the city has seen major growth centered around many high-tech initiatives and is now home to major technology companies — Google, Apple, Bosch, Uber, Facebook, Nokia and IBM, among others — that generate $20.7 billion in annual payrolls.
Uber Settles Its Self-Driving Tech into the City
Pittsburgh has famously partnered with ride-hailing service Uber to explore the use of self-driving cars. The public-private partnership, backed by state legislation, is allowing Uber officials to test autonomous vehicles in areas of the city.
Launched through a partnership with Carnegie Mellon University, the arrangement allows Uber to develop its technology while placing Pittsburgh squarely as a center of innovation.
Pennsylvania stands to benefit further from the partnership, as automotive and technology companies, encouraged by the legislation, continue to establish themselves in the state.
"Autonomous and connected vehicles will be integrated in the next generation of our transportation system," stated Sen. John Rafferty, chairman of the Pennsylvania senate transportation committee, in a June 2016 press release. "One of the primary reasons for Senate Bill 1268 is to test the incorporation of this advanced technology on our roadways that provides for safety, mobility, innovation and economic development."
Open Data Exposes Potential Innovation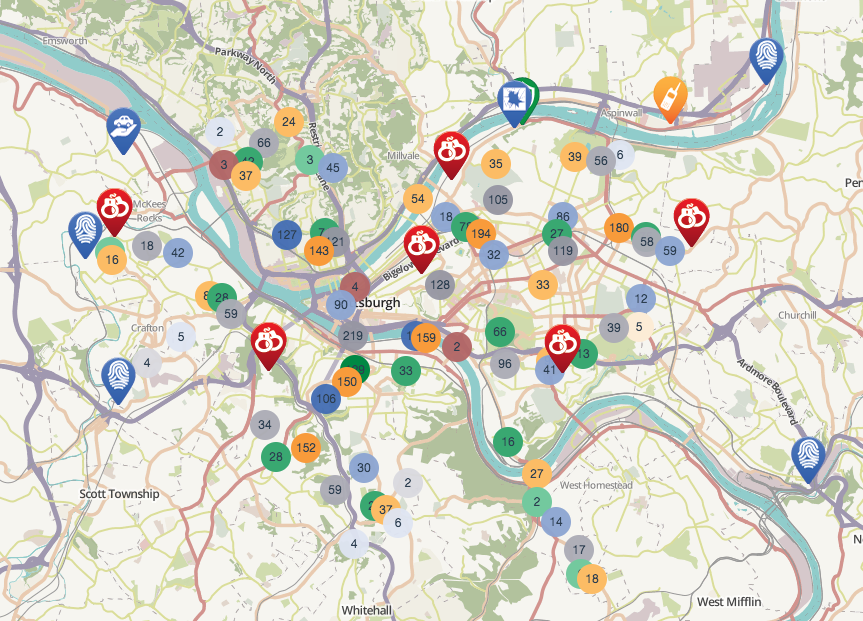 Local governments collect a lot of data, and figuring out how to distribute it and use it can be a struggle. But in November 2016, Pittsburgh tapped its municipal data to launch its Burgh's Eye View application — a map that allows city residents to see information ranging from 311 calls to police reports.
The map captures 10 years of data for residents to peruse and use as they see fit. But the map is just the beginning. Laura Meixell, assistant director of performance improvement for the city's Department of Innovation and Performance, told Government Technology that the city hopes for developers and analysts to apply user feedback, updating the map in a way that will become more useful to residents over time.
"The way you make data matter for people who aren't data scientists is through visualization, and probably the most successful kind of visualization that exists is a map," Nick Hall, open data services engineer for Pittsburgh, told Government Technology. "So much of Pittsburgh's data — because we're a city — lives in space. It's geographic. By building one map that can contain lots of different data sets within it, we're getting the most 'bang for our buck' in terms of making this information accessible to residents."
Illuminating Equality with the Internet of Things
Like many cities, Pittsburgh is investing in IoT, but with a slightly more altruistic aim. The city is turning to smart lighting as a way to reduce energy and costs, but also to keep the streets across all neighborhoods equally lit, even in less wealthy areas, according to Harvard University's Data-Smart City Solutions.
The city put out a request for proposal originally asking for lighting solutions as it looked to upgrade nearly 40,000 city-owned streetlights. It received several unexpected responses that touched on a connected network of sensors.
"Pittsburgh was focused on lighting fixtures and energy savings," Meixell told Data-Smart City Solutions. "And what we received was a whole variety of responses, including IoT solutions."
Realizing the Internet of Things could offer real benefits to residents, the city issued a new request for information that focuses on smart streetlights. Pittsburgh hopes to begin phasing in IoT lighting, installing it in several iterations with the understanding that as IoT technology evolves, there will be opportunities for new vendors.
"We want this project to be grounded in what the actual benefits are to residents," Hall told Data-Smart City Solutions. "Not just the technology as a solution narrative. There are genuine, potential benefits of data-driven feedback into city services if we go about this focused on public benefits."
AmitaPatel066/iStock/Thinkstock