NASCIO President James Collins Provides a Peek at NASCIO 2019
From partnerships to priorities, the Delaware CIO discusses what the agenda will be for state CIOs at their annual meeting.
The National Association of State Chief Information Officers will convene for its annual meeting in Nashville, Tenn., from Oct. 13 to Oct. 16. NASCIO recently published the agenda for the conference. StateTech will report on the conference live from Nashville. To preview the topics to be discussed by state CIOs, StateTech Managing Editor Mickey McCarter chatted with NASCIO President James Collins, who is also Delaware's CIO, about what to expect from this year's conference.
STATETECH: 

What can you tell us about the upcoming NASCIO annual conference? 

COLLINS: As I'm sure you're aware, this is our 50th anniversary year, so we really want it to be special. We've been having record attendance at recent events, and we expect this one to continue to break records. As it relates to NASCIO, some of the things that I've really been focused on as president are the partnerships between the CIO and stakeholder agencies, and building on those key relationships.

The agencies are directly serving citizens, and they have their priorities to overcome challenges to do that. When we put that together with technology, it's only then that we have solutions. So it's really important for those relationships to be strong. An example comes to mind with regard to election security: In many states, the elections process is either under the secretary of state or under an election commissioner. So the CIO must coordinate with those departments to best protect voting systems.

My message to other agencies: "If you're not in the cybersecurity business, this is not the time to take an online course and try to figure it out. Work with the folks that do it day in, day out."

MORE FROM STATETECH: Discover how Tennessee CIO Stephanie Dedmon has tackled her first year in office.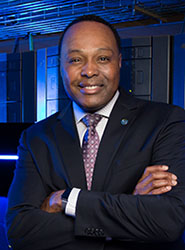 Photo: Courtesy of the Delaware Department of Technology and Innovation
Delaware CIO James Collins
STATETECH: 

So, there will be a big focus on working in partnerships at the conference?

COLLINS:Collaboration and partnership is always a huge part of what NASCIO does. We have a large contingent of private sector members as well, and we want make sure we create plenty of opportunities to build a collaboration with our state members and the private sector members.

We have developed a CIO's broker model, which is really predicated on having strategic partnerships with private sector organizations. So, we try to find those opportunities during the conferences. We highlight things that are working well. If you think about it, most of us are offering the same services to citizens across the nation, so if somebody's worked with a private sector partner and solved a major issue, we try to lift that up so that the other members can be aware of it and research and duplicate it if it might work.
STATETECH: 

What's the discussion around CIO as a broker going to look like? What elements of CIO as a broker are going to be at the forefront? 

COLLINS: One of the things you'll continue to hear about is the power of data and leveraging data across the many government silos. And we will use tools from some of our private sector partners who have expertise in that area. 

One of the themes of the conference as well is going to be the future. What do government services look like in the future? How do we position the enterprise and the IT infrastructure to support government services, and what will they look like in the future? And so, when you start thinking about the future, you can't escape talking about AI. We're going to hear from some of our partners and some of the speakers at the conference about how AI will impact government services going forward.
STATETECH: 

You've been president of NASCIO for a year. What has been the most rewarding part of that experience so far? What do you most look forward to doing as president?

COLLINS: It's been a real honor to represent my colleagues in advancing some of our federal priorities. We've been meeting with congressional staff. We've been meeting with some partner organizations, including the National Governors Association and others. What I'm hearing from my colleagues at NASCIO is that rural broadband is important. Digital services and delivering digital government are important. Cybersecurity is a priority. Just being able to speak on these matters on their behalf has been a real honor.

We represent delivering services to the United States of America. And so, we seek to advance the delivery of those services, helping state agencies to serve the citizens. And I really like to talk about it in real terms. When you think about some of the cyberattacks that have happened recently, everybody talks about the attacks, but I don't think we've spent enough time talking about how that's impacting people's lives.

You may want to do a real estate deal, and it's time sensitive. The government is involved in that from filing the title. And if I can't get that done, it could impact that deal. People are dependent on the government for food or other resources, so we need to deliver those resources in a timely manner. If government can't collect revenue because the systems are down, it impacts our ability to deliver services. 

So, I'm working, as president, with my colleagues to move those things forward. One of our federal priorities is harmonization of the federal compliance requirements for the IRS, the FBI and the Social Security Administration. Right now, we get audits from different agencies. They vary. And meeting the compliance requirements is difficult sometimes because it's not consistent, so we've been advocating for some consistency in those requirements. Being able to address those issues in my role has been very gratifying.

MORE FROM STATETECH: Revisit a past StateTech conversation with James Collins to see why he makes IT centralization a top priority
STATETECH: 

As president of NASCIO, have you gained particular insight into some aspect of the CIO role that has illuminated a shared struggle other CIOs are facing that perhaps wasn't so challenging for you personally in Delaware? 

COLLINS: A couple of things come to mind. All of the states are somewhere in the journey of IT centralization, of starting to centrally manage the IT in an enterprise way. And it's different in every state. NASCIO Executive Director Doug Robinson always says, "If you've seen one state, you've seen one state." The politics are different in every state. The dynamics and the amount of resources are different in every state.

Although the journey is very similar where states are in the process of centralization, I've grown to really appreciate the differences. It's not a matter of one-size-fits-all.

Another topic that that really comes to mind is solving the rural broadband issue. Just about every state is struggling with that, and there are different challenges in every state. As you know, we're all different sizes. There's different topography, and so I've really grown to appreciate the diversity of among different states facing the same challenge.
SolStock/Getty Images
More On